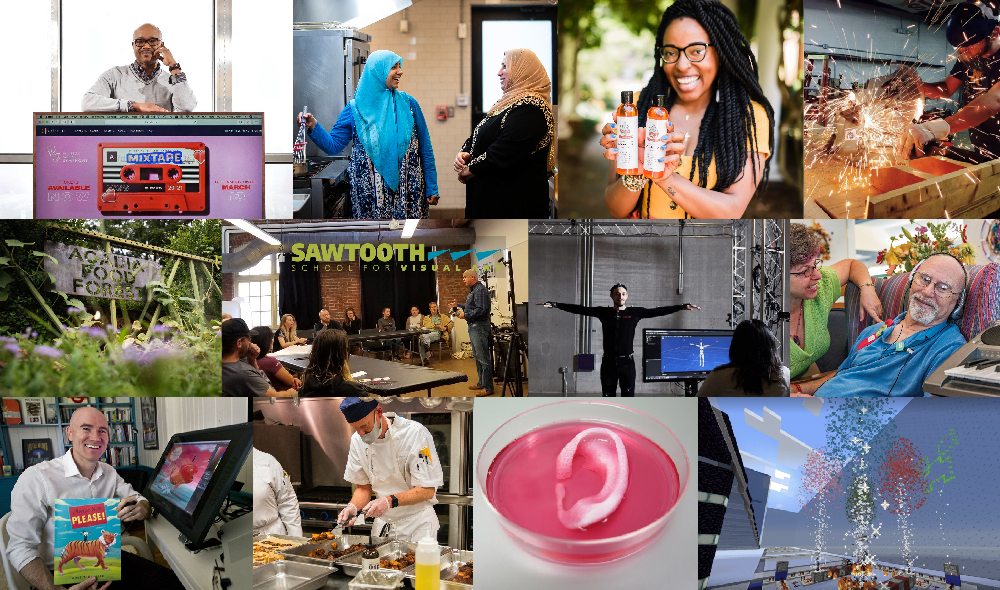 MIXXER is an inclusive community makerspace that makes available resources that allow people to explore their creativity and curiosity. MIXXER is for anyone that needs a safe comfortable place to make things; whether it is an electronics project, sewing, woodworking, metalworking, if you are a lone maker, hanging out with friends, or a parent/child project. MIXXER is where you can explore your creative side and meet creative people.

"Delicious by Shereen" is a catering company designed to empower members of the Syrian refugee community fleeing war and faced with the challenges of resettlement. Utilizing cooking skills to achieve financial stability and independence for their families, Delicious by Shereen also provides for refugee women financial planning workshops, networking, and opportunities to successfully integrate into community life.

Second Harvest's innovative Providence programs are building lasting solutions to end hunger and poverty. Our work provides culinary, hospitality, and life skills training and opportunities to gain résumé building work experience that changes lives one recipe at a time.

Acadia Food Forest is a deli, coffee shop and market striving to provide the south side of Winston Salem with healthy alternatives. Sol Mobil is an E-Bike company like no other. It offers professional quality custom E-bikes, repairs, and upgrades, as well as component sales, remote support, solar E-Bike charging systems, and more.

The Feelings Company is B2B consumer product company that creates social and emotional learning(SEL) content. We sell our educational program and professional development to school districts, Head Start, and private daycares. Our product, The Feeling Friends is an evidence-based learning program that fosters social and emotional wellness in children in the early years. We are the only African American evidence-based SEL in the country and we see SEL from a unique and culturally inclusive lens.

We are an independent, North Carolina based company whose mission is to provide children and young adults high quality instruction in a variety of software programs. We have personally designed each class to provide both the instructor and student with the best possible learning experience. We offer a platform for the next generation to express themselves in various software mediums by developing the foundations of practical, technical skills alongside programming and computer knowledge. We are committed to providing the highest quality education at a fair price so that the future generations have the right tools to succeed.

Movers & Shakers started in April 2017 as an artist/activist collective focused on using immersive technology to challenge the inequitable distribution of monuments in New York City.To that end, we are developing culturally responsive pedagogy and merging them with our augmented reality monuments so that middle school English students at home and in the classroom can engage with the monuments.

Responding to the activity of God, the dreams of neighborhoods, and the callings of people, Love Out Loud connects the many great efforts across our city, convenes groups of like-minded leaders around shared causes, and accelerates innovative ideas born out of collaboration and complex thinking, built on relational capital, and grounded in spiritual transformation. Through the process, Love Out Loud hopes to serve and strengthen local churches while fully engaging others working for the good of our city.

The Media and Emerging Technology Lab (METL) was founded in 2017, by the School of Filmmaking at University of North Carolina School of the Arts, to both define and shape the impending evolution of how immersive story content will be created, consumed and told—in close collaboration with leading academic institutions and companies of North Carolina.

Our priority at the Center for Entrepreneurship at Wake Forest University is to educate and inspire entrepreneurial leaders through engaged teaching, coaching and mentoring within a robust and vibrant entrepreneurial culture. We graduate students who have experienced the entrepreneurial life cycle. They will move from idea to concept, venture to scale and then to harvest.

Kyle Webster, Senior Design Evangelist at Adobe, works with a myriad of platforms within the Adobe universe. At IdeasCityWS, Kyle will lead a series of demonstrations highlighting Adobe Fresco: Built for the latest stylus and touch devices – now including iPhones – Adobe Fresco brings together the world's largest collection of vector and raster brushes, plus revolutionary live brushes, to deliver a totally natural painting and drawing experience. It's a complete set of digital painting tools for anyone who wants to discover, or rediscover, the joy of drawing and painting.

Senior Services' mission is to help older adults remain at home for as long as possible and to help them live with dignity. With concern for those who care for senior adults, we also help caregivers through services and education that will benefit them.
Individuals who cannot afford to pay for services are of special concern to Senior Services and receive assistance to every extent possible through philanthropic contributions and available public funds.

Since our founding in 1945, Sawtooth School for Visual Art has been a creative hub for Winston-Salem and the region. We have served generations of artists, from skilled professionals to novices of all ages.
Sawtooth's classes and events are open to everyone in the community—no matter what age, skill level or background. Classes range from one evening, a weekend or three months, with even more options for children and teens. Our dedicated teacher-artists foster a nurturing atmosphere that combines technical expertise and the freedom to experiment and grow.

Arts Council is the chief advocate of the arts and cultural sector in Winston-Salem and Forsyth County. Our goal is to serve as a leader in lifting up, creating awareness and providing support to grow and sustain artistic, cultural and creative offerings throughout our region. We acknowledge that it takes every voice, every talent, and every story to make our community a great place to live, work, and play. Arts Council is committed to serving as a facilitator, organizer, and promoter of conversations that are authentic, inclusive, and forward-thinking.

The vision of the Creative Center of North Carolina is to be a catalyst that stimulates creative thinking and collaboration for Winston-Salem to have its brightest future and to To help define and advance a community-wide unified message about the unique assets and opportunities offered in Winston-Salem.

Our promise is to provide you with quality products that your skin will love and benefit from. We build confidence, not only do we care about your skin, we care about your soul. I believe that everyone deserves to have access to quality, affordable & natural products, that is why we are here.

Winston-Salem State University's Center for the Study of Economic Mobility (CSEM) launched in September 2017 with a $3 million grant from the Thurgood Marshall College Fund's Center for Advancing Opportunity (CAO), an initiative supported by The Charles Koch Foundation and Koch Industries. The CAO focuses on researching barriers to opportunity in fragile communities. WSSU is the first announced center from CAO.

The Wake Forest Institute for Regenerative Medicine (WFIRM) is recognized as an international leader in translating scientific discovery into clinical therapies. Physicians and scientists at WFIRM were the first in the world to engineer laboratory-grown organs that were successfully implanted into humans. Today, this interdisciplinary team that numbers about 400 is working to engineer more than 40 different replacement tissues and organs, and to develop healing cell therapies – all with the goal to cure, rather than merely treat, disease.

iQ Healthtech Labs brings together the expertise of our anchor academic institutions like Wake Forest School of Medicine, combining with commercial and consumer-minded partners and leveraging the power of our health system partners to test, refine, scale and rapidly deploy healthtech solutions.
A physical and virtual strategic partnership hub, iQ Healthtech Labs leverages the unique, world-class intellectual anchors that exist within the Innovation Quarter and seeks to pair them with industry and commercial partners that have ideas they're looking to advance into the marketplace.

The Lam Museum of Anthropology at Wake Forest University creates awareness of global cultures by collecting, protecting, managing, and exhibiting archaeological artifacts, ethnographic objects, and visual arts of past and present peoples, and providing opportunities for intercultural learning.
The faculty of the Wake Forest University Department of Anthropology established the Museum of Man in 1963 to broaden the learning opportunities available to their students. The Museum was renamed the Museum of Anthropology (MOA) in 1987. In 2020, the Museum moved to its current location in Palmer Hall. In 2021, it was renamed the Lam Museum of Anthropology in honor of alum Timothy Lam, Sr. Since its inception, the Museum's educational role has expanded beyond campus boundaries and into the greater Piedmont Triad community.
At IdeasCityWS, the Lam Museum of Anthropology is presenting it current work to develop blockchain-based solutions to cultural heritage problems. High profile debates about who should own the artifacts on display in great museums have shown how difficult it can be to find solutions when heritage is at stake. In collaboration with the WFU School of Law and our partner Art & Antiquities Blockchain Consortium, the Museum is testing out blockchains and smart contracts to divide ownership claims and reach new agreements with stakeholders. This exhibit shows that while the objects on display at the Museum have taken many roads to get to Winston-Salem, new innovations developed locally will influence where they go from here.

Looking Glass combines the latest in bleeding edge scanning and 3D modeling technology to create immersive experiences. Virtual reality (VR) is a technology that generates realistic images, sounds and other sensations that simulate a user's physical presence in a virtual or imaginary environment. Looking Glass believes this new medium is important and should be experienced by all and our mission is to use VR to connect, transport, educate, and entertain.