Main Content

Wake Forest University, New Museum's NEW INC in New York City, and more than a dozen local businesses and organizations, are engaging in a unique year-long partnership under the banner "IdeasCity Winston-Salem."
IdeasCity which began as a collaborative program of the New Museum has taken many forms over the years as a platform that builds on the premise that art and culture are essential to the future vitality of cities. Winston-Salem joins a global list of cities that have hosted IdeasCity, including Athens, Detroit, Istanbul, New Orleans, New York City, São Paulo, Shanghai, Singapore and Toronto.
Throughout the 2020-21 academic year, community partners will host events to explore creative approaches to improve health and wellbeing, economic development, and justice and equity for members of the Winston-Salem community.
January 21, 2021 at 12:00pm

February 3, 2021 at 5:00pm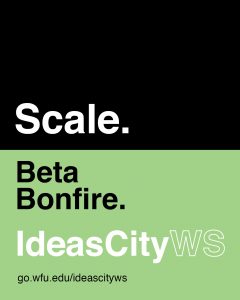 ICYMI
On December 10th, IdeasCityWS celebrated the anniversary of "From the Ground Up" – an original dance piece at Wake Forest University designed to elevate the dedicated people whose skillful work so often goes unseen – with a screening of the documentary film by the same name.  This latest IdeasCityWS Beta Bonfire features a closer look at this remarkable event, through the lens of workforce development which also included a panel discussion.
"From the Ground Up" @ IdeasCityWS >>